This Treacher Body.
I woke up one morning in late April, and the left side of my face had developed a weird little quirk: it didn't quirk. It had gone numb. I couldn't blink. All the lines had disappeared from that side of my face (sort of a poor man's Botox), and my upper lip seemed to drift off to the right (since the muscles on the left had gone numb).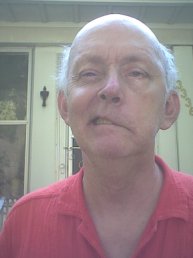 Smiling after the palsy.
(May, 2008. Three years later. My face has recovered somewhat, but my smile is still crooked.)
My left hand was alright, and I could walk normally, so I knew it wasn't a stroke. In fact, I had suffered something called Bell's Palsy (www.bellspalsy.org), an attack on my number 7 facial nerve by a virus--possibly chickenpox from when I was a kid, or perhaps herpes.
I'm 62, 6'3", and 205 pounds (when this started). I've always been blessed with splendid health, playing both volleyball and golf, walking, biking, etc. In fact, the last time I spent any time in a hospital was when I was 18 and in the Navy, and both times it was because of falls while roller skating. (Two front wheels rolled past me, and I wondered "What poor bastard..." at which point my toestop hit the floor and as I stretched out toward the hardwood I realized who the aforementioned poor bastard was.)
After a visit to Urgent Care at the VA hospital in Minneapolis, I was put on antibiotics. When I visited my primary care provider the next Tuesday, they immediately shipped me up to the fifth floor ward and put me on IVs. This was followed by an MRI, audiology, and the works.
Friday they let me out of the VA, with orders to return to a local hospital on Monday for a possible operation on my head. Monday I was put in the hospital and was operated on at 6:30p.m. It was quite the operation: they cut a 3.25" square in my head, lifted my brain, then drilled the nerve channel a little larger, and put Humpty together again. By 10 I was in recovery, spent the night in Intensive Care, and two more days in that hospital.
Here it is, two weeks after the operation. I have since had my left eye sewn mostly shut, to protect the cornea (after all, the eye doesn't blink). Next week I may get it glued shut, and the stitches removed. I wear a black patch, and look like a Pirate of the Caribbean (and because of the eye I can't drive).
My visit to the surgeon today resulted in learning it might take me up to a year to recover fully, if then. My hearing is off, possibly because of blood in the ear canal, as is my balance.
I've got invitations to two golf-related events I won't be able to get to now, but worse than that, I don't know how I can work. That will require negotiating the shoals of disability, unemployment insurance, perhaps early retirement.
So, this is the start of my odyssey. My body, reliable for so many years, let me down a little bit. My RVgolfing days appear to be taking a rest, as well.